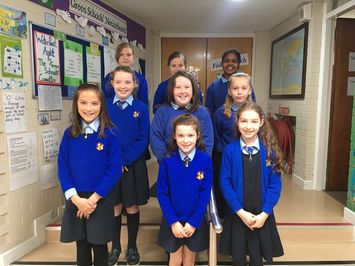 Committee members are:
6th Class: Amina , Leah & Vilte
5th Class: Erin  & Sarah
4th Class: Christy  & Egle
3rd Class: Emma Jane  & Alexandra
Healthy Flapjacks Recipe (courtesy of Mrs Treanor)
Oats are a superfood. They contain lots of vitamins and minerals and they are a great source of fibre. They keep us fuller for longer and they are very good for our health. Here is a recipe for tasty flapjacks. Remember if you are cooking please make sure an adult is helping you out . Enjoy this tasty snack!!
Flapjacks
Ingredients:
225g (8oz) butter
225g (8oz) Demerara sugar/light brown sugar
75g (3oz) golden syrup
275g(10oz) porridge oats
Method
Tray -30x23cm (12x 9inch)
Preheat oven to 160 degrees Celsius (fan oven ) or 140 degrees for ordinary ovens / gas mark 3
Grease tray
Melt the butter in a large pan with the sugar and syrup.
Stir in the oats. Mix well and turn into tray. Press flat using the back of a spoon. Bake for 35 mins until pale golden brown. Leave to cool for 10 mins and cut into squares.
Enjoy!